TrueRC™ Astrographs - RC14C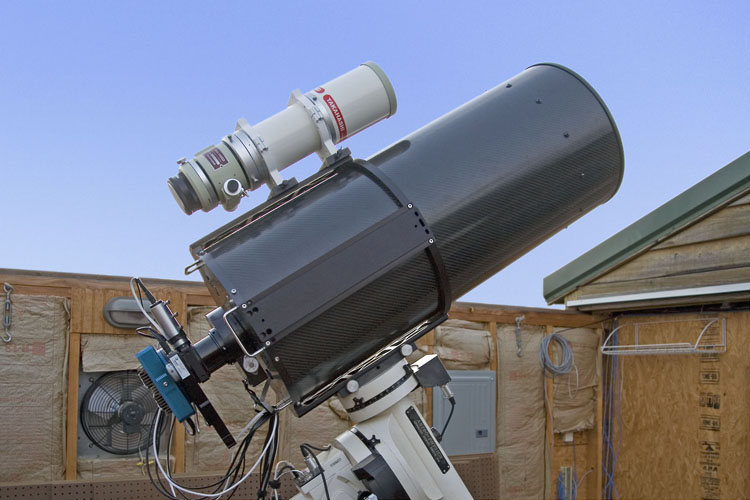 Estimated Delivery: We are currently taking orders for the RC14C. Delivery is estimated at 90 to 120 days after receipt of order.


RC14C Features
---
TrueRC™ Design
The RC14C is a true Ritchey-Chrétiens. It is not a cheaper design modified to work better. The RC design has inherent advantages over other Cassegrain designs. While others like to claim "RC" like performance, the TrueRC™ series astrographs have RC performance. That's because they really are Ritcheys!
Optics by Star Instruments
Star Instruments optics are legendary. Paul Jones has been making RC optics for over 30 years.
Six-Point Mirror Cell
A six-point flotation cell is used to support the primary mirror eliminating astigmatism that may otherwise be induced due to poor support. Collimation is pre-set at the factory but may be adjusted as required using three traditional push/pull locking adjustment screw sets.
Electronic Secondary Focuser
The RC14 incorporates a precision, zero image shift electronic secondary focuser. This allows your optical train to be firmly secured to the OTA. It also means that the focuser is not required to support the weight of your camera, filter wheel, adaptive optics, off-axis guider or other instrumentation. The focuser uses a standard 12VDC uni-polar stepper motor that is compatible with the RoboFocus motor standard. This means you can use any RoboFocus compatible controller and ASCOM drivers for focusing through applications like MaxIm DL and FocusMax.
Secondary Dew Heater
A secondary dew heater is incorporated for those nights where the dew point can create condensation. On/off may be manually or PC controlled.
Cooling Fans
Three rear mounted cooling fans provide fast cooldown and constant thermal equilibration. Like the secondary dew heater, on/off may be manually or PC controlled.
Carbon Fiber Tube
High-performance carbon fiber tubes are used in the RC14C astrograph. They are strong, durable, light-weight and weather resistant. They also minimize thermal expansion and the need for continuous focus adjustments. And they look great too.

Our carbon fiber tubes are thicker than other tubes of similar size. They are a full 0.1" thick. They are also 100% carbon fiber/epoxy resin to optimize thermal stability.
Stainless and Aluminum
Stainless steel and aluminum are used throughout the design for light weight and corrosion resistance. Our machined aluminum parts are made from a special zero-stress cast aluminum alloy. This guarantees precision parts that don't deform during the machining process.
Design
All of our scopes are designed in SolidWorks and modeled/optimized in COSMOS to improve quality and manufacturability. Many features are computer generated for optimal performance. All of our optics are designed and modeled in ZEMAX. Our corrector designs are optimized and toleranced to provide the smallest possible spot sizes.
DSI 3.5" Optical Interface
Our RC10 astrograph uses the Astro Physics 2.74" threaded standard interface. But when it came time to choose an interface for the RC14C, no suitable standard was available. So we created our own. Our threaded interface is 3.5" x 24tpi which guarantees zero vignetting for even the largest CCD chips currently available. All of our threaded parts are manufactured by Optec to guarantee compatibility. This includes various length extenders, a 3" Pyxis rotator adapter and a DSI 3.5 to AP 2.7 adapter... all available from Optec.
Overall Value
The TrueRC™ series astrographs were designed to be an exceptional value. They are purpose-built to provide the performance and features that really count when your goal is the best astro-images possible. You can buy more expensive equipment, but why would you want to?
RC14C Specifications (Subject to Change)
---
System
True Ritchey-Chrétien
Optics
Optics by Paul Jones, Star Instruments
Primary Mirror Size
14.625", 14.25" usable
Secondary Mirror Size
6.5"
Performance
Diffraction limited
Mirrors
Hyperbolic, enhanced coatings, Pyrex or Fused Quartz substrates
Corrector
Two element field corrector/flattener, fully multi-coated all surfaces
F/Ratio
f/7.0
Focal Length
99.75" (2534mm) nominal
Back Focus
12" primary front surface to focus
8.4" from back of OTA
Corrected Imaging Circle
> 2.0" (52mm), 1.2 degrees
Focuser
Electronic secondary focuser, computer/manual control, ASCOM compliant
Interface
3.5" 24 tpi, female
Tube Construction
Carbon fiber, glossy carbon fiber finish
Tube Length
40.5" nominal (not including handles)
Tube Diameter
16.5"
18.5" from dovetail plate to dovetail plate
Overall Construction
Carbon Fiber/Aluminum/Stainless Steel
Estimated Weight
58 pounds without dovetail plates
72 pounds with integrated dovetail plates (included)
RC14C Spot Diagrams (circles represent Airy disk)
---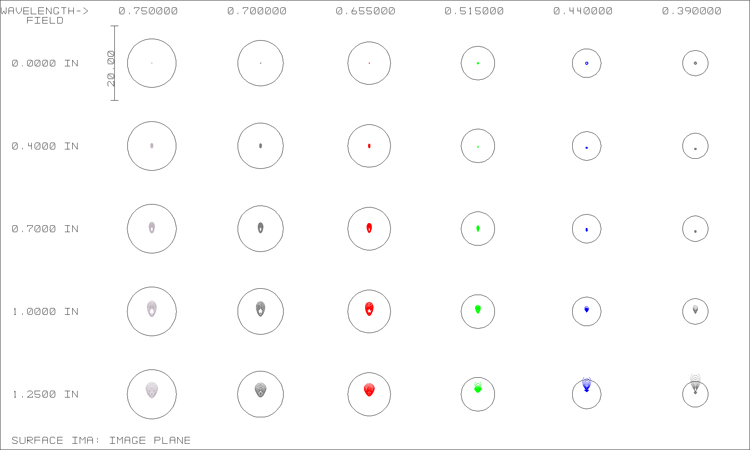 | | | |
| --- | --- | --- |
| Image Circle Radius | Image Circle Diameter | RMS Spot Size (390nm to 750nm) |
| 0.00" | 0.00" | 0.197um |
| 0.40" | 0.80" | 0.484um |
| 0.70" | 1.40" | 0.766um |
| 1.00" | 2.00" | 0.977um |
| 1.25" | 2.50" | 1.518um |
Spot Diagram Comparison (DSI RC14C vs. Popular 12.5" CDK)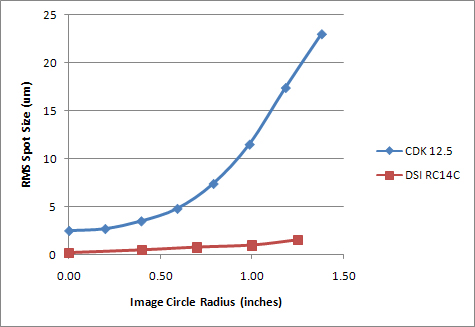 RC14C Construction Gallery
---
Optec Threaded Parts
(Back Plate Adapter, Corrector Cell and Lens Retaining Ring)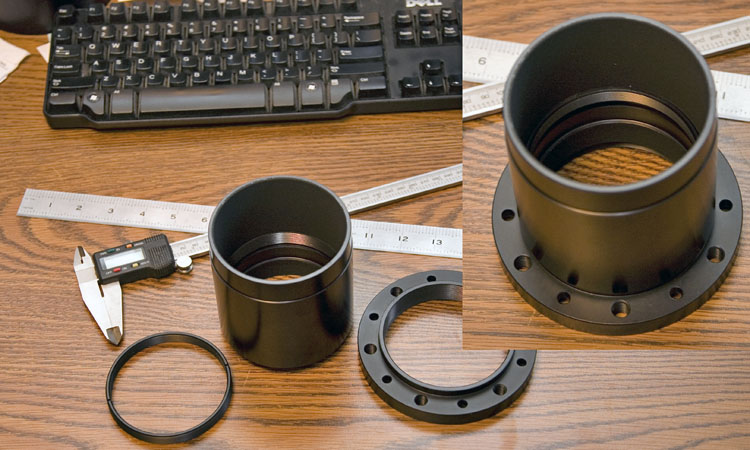 Carbon Fiber Tube
(dove tail plates with outer support ring)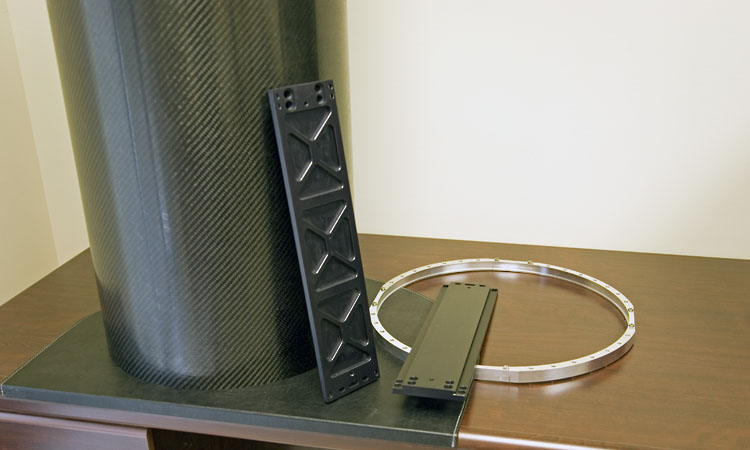 Back Plate Machining
(back side showing fan recesses and light weighting)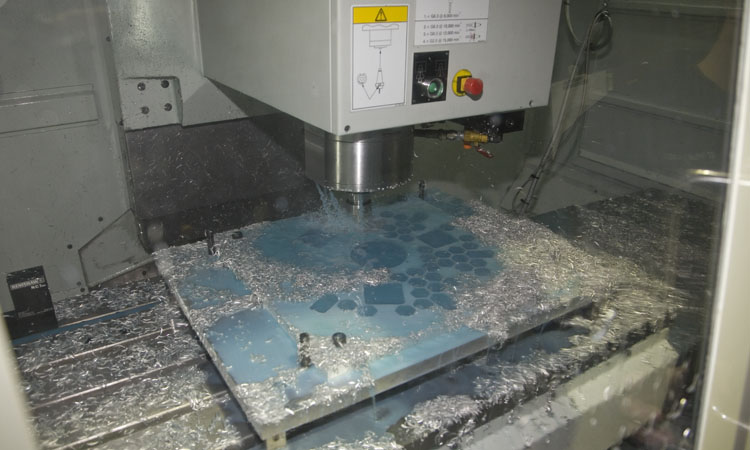 Back Plate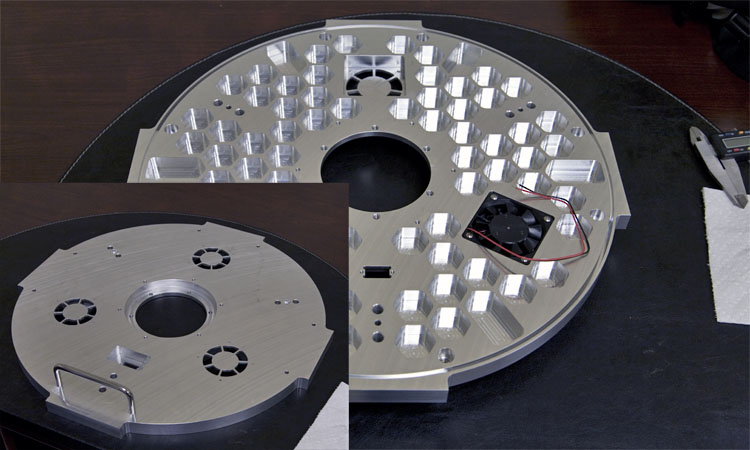 Secondary Support Ring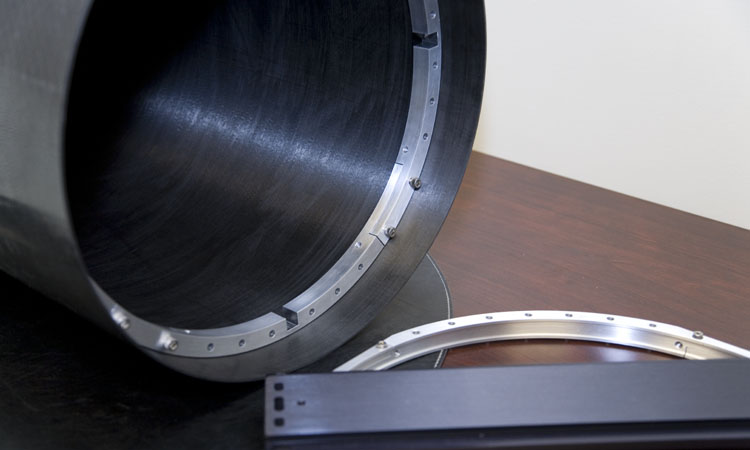 Mirror Cell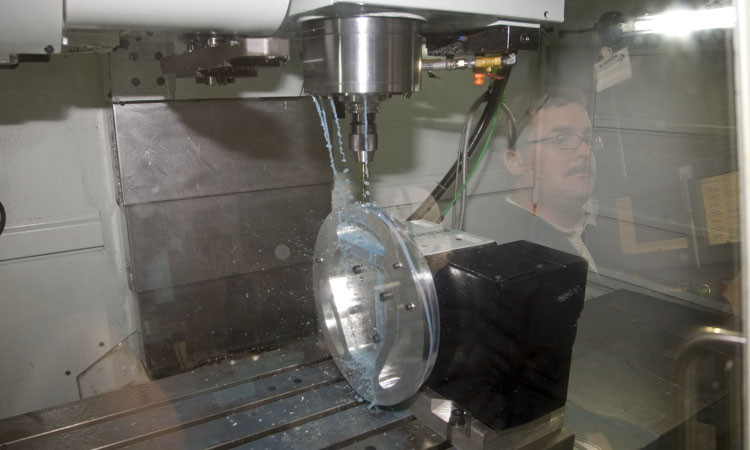 Mirror Mount
(RC14C + RC10C)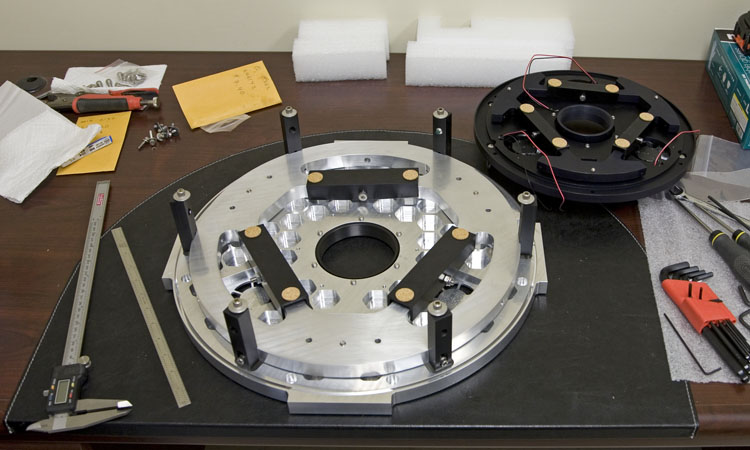 Dove Tail Mounting Plates
(Losmandy 17.25")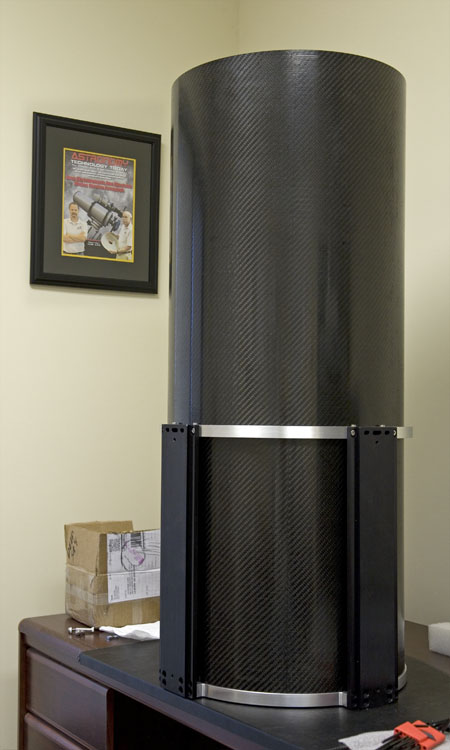 Optec 3" Pyxis Rotator
(mounted with DSI 3.5" to 3" Pyxis adapter)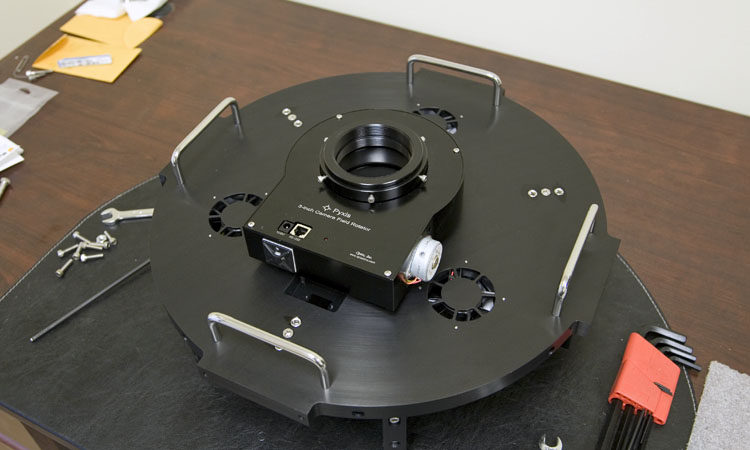 Secondary
(With Center Circle)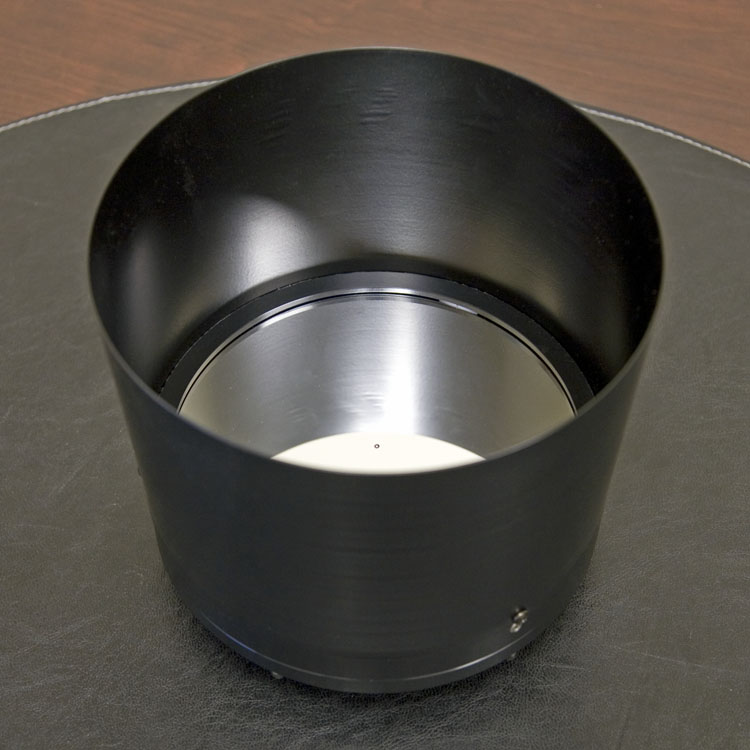 RC14C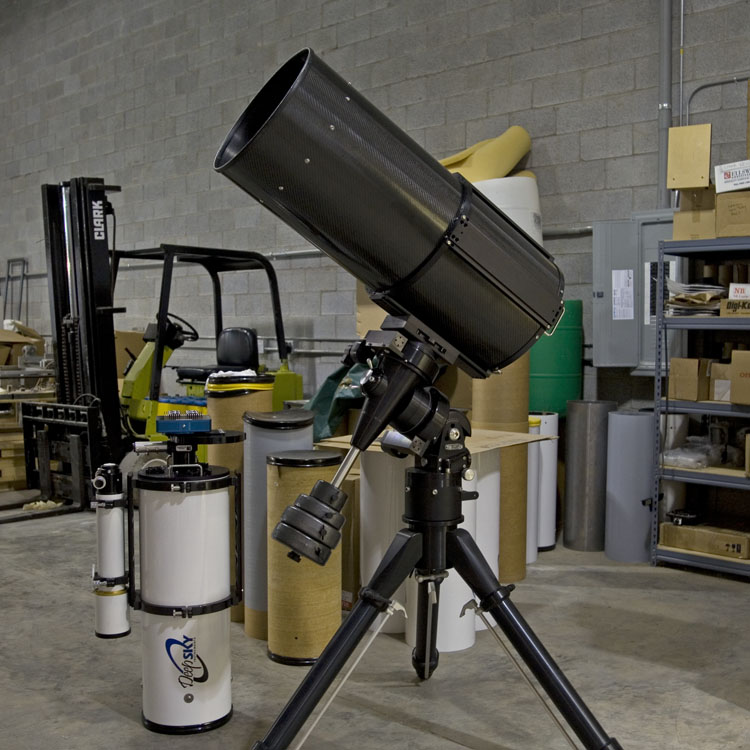 RC14C in custom shipping crate with side handles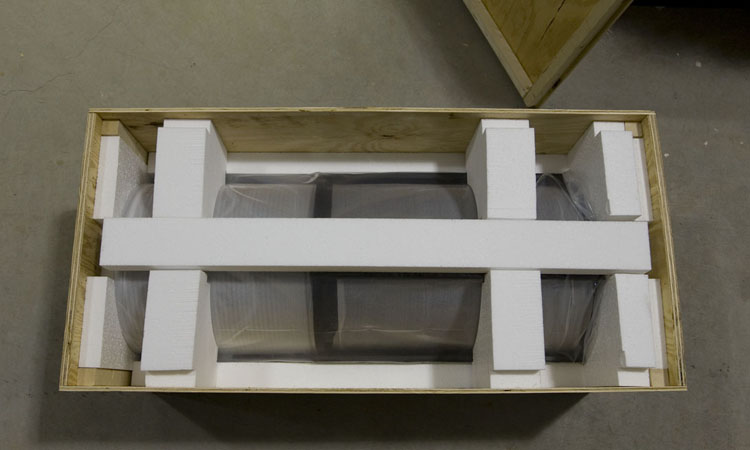 RC14C First Light (see gallery for images)